@alvinirby March 2, 2018
As we near the end of Read Across America Week, I want to remind parents, educators, and other adults that sometimes it's ok to read picture books that make children feel uncomfortable. Having taught kindergarten, first grade, and fourth grade in independent, charter, and traditional public schools, I have learned that great children's literature gives young learners permission to both feel and explore the complex emotions that make up the human experience.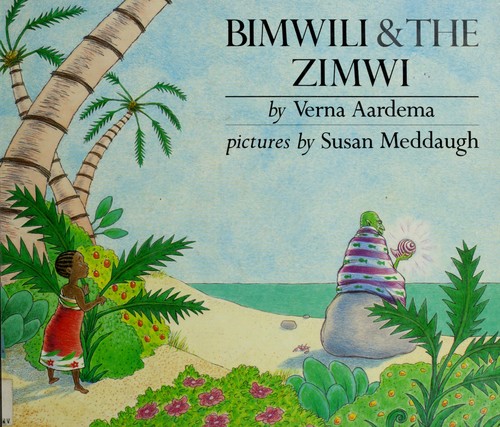 Ten years after Verna Aardema published her Caldecott winning book, Why Mosquito Buzz in People's Ears: An African Tale, she published Bimwili and the Zimwi, a children's book that has remained relatively unknown since it's initial publication in 1985.  Throughout the years I somehow forgot all about this awesome book until I became a teacher. While teaching first grade in the Bronx, I became increasingly motivated to rediscover my favorite childhood book because I wanted to share it with my students who would benefit from experiencing this story.
Initially, I only remembered small fragments of the story, which did little to help my cause. There was a little African girl, a beach, and a seashell.  Overtime and many Google searches later, I recalled a bit more of the story. There was a green creature and a drum. Together, these desperate parts were enough reunite me with Bimwili and the Zimwi or so I thought.
To my dismay, this treasured story from my past was no longer in print. Luckily, Amazon had no shortage of people seeking to part with it. Full of excitement, I waited for my package to arrive. Today, most books are available instantly with the mere click of a button, so that 10-12 day wait felt like an eternity.
When I finally, cracked open Bimwili and the Zimwi, I quickly realized why it was no longer in print. It was super creepy! If I had not read it with my own eyes, I might not have believed how amazingly weird the book was. This colorful story is reminiscent of the horror-filled fairy tales and classic stories that were read and told to children long before political correctness was a thing. Unlike some of classic cautionary tales of old, Bimwili and the Zimwi actually has a happy ending, but it definitely raises a child's or adult's blood pressure along the way. What's so crazy about this book? I'm glad you asked. Here's a play by play summary of this creepy book.
Two sisters want to go to the beach but their mother makes them bring their little sister Bimwili;
They have an amazing time at the beach and Bimwili finds a cool seashell;
The sisters return home but Bimwili realizes she left her shell at the beach and turns back alone;
When Bimwilli arrives at the beach, a creepy green creature with long arms is sitting on a large rock holding her shell;
Bimwili repeatedly asks the green creature (Zimwi) for her shell, but each time he says he can't hear her so she moves closer;
Once she's within arm's reach, the Zimwi kidnaps Bimwili and put her in his drum;
The Zimi teaches Bimwili songs and launches a multi-village tour with his singing drum;
Periodically, the Zimwi let's Bimwili out of the drum to eat jungle fruit;
Eventually, Zimwi does his act in Bimwili's village and she changes the words in the song to alert her listening mother;
The people of the village trick the Zimwi, free Bimwilli, and run the Zimwi out of the village;
While walking down a path the next day, Bimwili and her sisters are nearly run over and eaten after the Zimwi transforms himself into a large teeth-baring pumpkin;
The end.
I don't know if there's a running list of the world's creepiest children's books, but Bimwili and the Zimwi has to be in the top 10. As crazy as this story is, most kids enjoy and some want to hear it again and again. In this modern age of hand sanitizer, knee pads, and electronic tablets, countless parents go out of there way to ensure that their children live in a constant state of bliss. For some parents, good parenting means avoiding books that might make children angry or afraid.
By no means do I think anyone should ever intentionally cause children emotional pain or trauma. However, all children will encounter negative experiences at some point in their lives. In the hands of a caring adult and skilled educator, even the creepiest book on the planet (aka Bimwili and the Zimwi) can be used to help support children's social emotional development and to help them make sense of some of life's most unpleasant situations.
SUBSCRIBE TO BLOG
Thank you for subscribing.
Something went wrong.