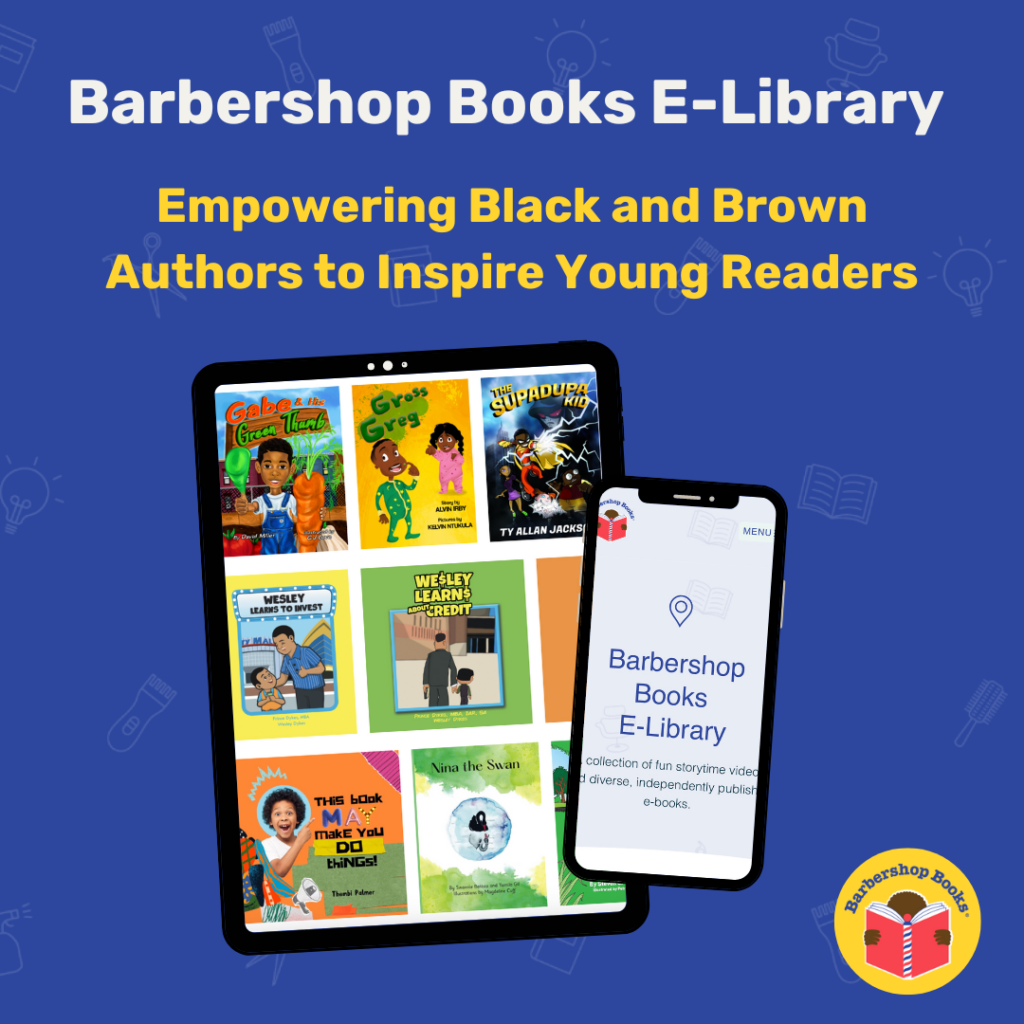 In today's digital age, e-books and online libraries have become increasingly popular. The internet makes it possible for people to access a vast collection of books and literature from the comfort of their own homes. Just like adults, children possess varying reading preferences, and some tend to be drawn towards electronic books and digital reading content. This is where the Barbershop Books free E-Library comes in!
Founded in 2020, the Barbershop Books E-library was created to give vulnerable children access to books when barbershops, libraries, and schools closed due to the COVID-19 pandemic. Simply put, the Barbershop Books E-Library is a free digital reading platform that features books written by self-published children's book authors, along with videos of storytime sessions. The digital setting provides a comfortable and familiar environment for kids to read, however, the Barbershop Books E-Library could be appealing to children for several reasons, such as its wide range of diverse authors, culturally relevant, fun, and newly published books, and interactive storytime videos. Additionally, the books in the E-library are carefully curated to appeal to children of all ages and reading levels, and are designed to foster curiosity, imagination, and empathy.
One unique aspect of the Barbershop Books E-Library is its focus on self-published authors. By partnering with self-published Black and Brown authors, the E-Library provides a space for new voices in children's literature to be heard and celebrated. Access to culturally relevant and age-appropriate books should be simple, and by making these books accessible to young readers, the E-library is breaking down barriers and fostering a love of reading that will last a lifetime. This focus allows for a range of stories to be shared and gives independent authors the opportunity to have their work seen by a wider audience. By partnering with independent authors, we include a wide range of diverse books not available through traditional publishing channels. So, the E-Library supports the work of independent authors while ensuring children have access to books that reflect their experiences and identities.
The Barbershop Books E-Library is more than just an early literacy platform; it is a powerful tool for empowering Black and Brown authors and promoting diversity in children's literature. Here are a few ways you can support and get involved:
Become a Barbershop Books E-Library Author
Are you a Black and Brown self-published children's book author? Great! You can submit your books for consideration on the website. If selected, your books are made available for free on the Barbershop Books E-Library website, reaching thousands of young readers across the country. This is a unique opportunity to showcase your work and gain exposure. Submit a book for review here.
Read an e-Book
Looking for a place to start in the E-Library? Here are 5 tips to get you started on reading your first book:
Get online! Choose a smart device that can access the internet and go to https://barbershopbooks.org/e-books/.
Get comfy! Find your favorite reading spot to read in. This could be your bedroom, the couch, the train, or even the toilet!
Search through the books! Browse through the E-Library and click on a book or a storytime video that catches your eye.
Look beyond the cover of the book! Read the book description to see if it sounds interesting.
Enjoy the book! Once you have decided on a book to read, click the "Read Now" button to start reading the e-book.
Spread the Word
As a community, we can support the Barbershop Books E-Library and self-published authors by spreading the word and encouraging others to get involved.