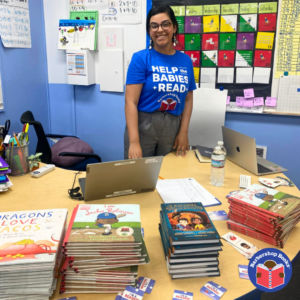 On June 23rd, The Equity Project School hosted a vibrant Spring into Literacy Day event, dedicated to promoting a love for reading and empowering young minds. Families and students gathered for an enriching day filled with literary activities and discussions.
Program Manager Yami Guzman and Program Coordinator Melody Castillo engaged with families about the Barbershop Books Program, emphasizing the program's mission to create child-friendly reading spaces within barbershops, and the importance of child-centered reading experiences.
A highlight of the event was giving away 120 free books to second-grade students. Each book was thoughtfully selected to cater to diverse interests, ensuring that every child could find a story that resonated with them and sparked their imagination.
The Spring into Literacy Day Event fostered a strong sense of community among families and educators, reinforcing the idea that promoting literacy among children is a collective responsibility. Parents and caregivers were inspired to become active partners in their children's education, recognizing the profound impact they have on fostering a lifelong love for reading.
Want to know how you can #helpthebabiesread ? Visit our Get Involved page to find out more.